Kakusenkei Gorge
Kakusenkei Gorge, the must-see attraction in Yamanaka Onsen, was once said to have inspired the poet Matsuo Basho to write the poem, "Here / the joy of a good / outdoor walk". The path running parallel to the river stretches for 1.3 km from Kohrogi Bridge to Ayatori Bridge to Kurotani Bridge. Enjoy a leisurely stroll while appreciating the beauty of the waterfalls and the unique rock formations accentuating the deep blue pools of water.
Places to See in Kakusenkei Gorge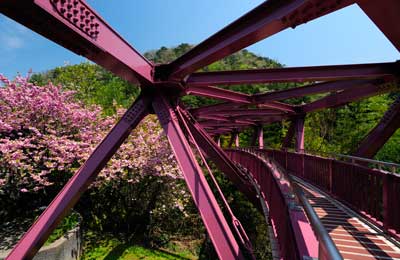 Ayatori Bridge
The name of this bridge comes from a traditional Japanese game called "Ayatori" (Cat's Cradle). Designed by Hiroshi Teshigahara, a Japanese film maker and son of the founder of the Sogetsu school of Ikebana, it measures 80 meters in length and its "S" shape mimics the form of a dragon rising into the sky. At night, the bridge is lit up, offering a different yet equally impressive view of the gorge that visitors come back every year to see.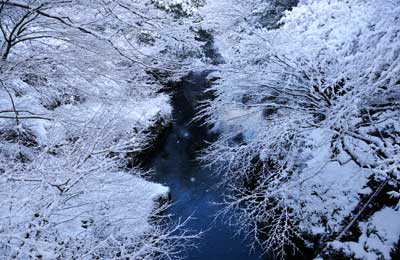 Winter in Kakusenkei Gorge
From November to February, Yamanaka Onsen becomes quietly covered in a heavy blanket of snow. Kakusenkei Gorge turns into a pristine white while the town becomes enveloped by steam rising from the hot springs. The winter silence swallows even the sound of the flowing river, adding to the mysterious atmosphere of this fantasy-like winter wonderland.